---
Music
Prepare yourself for the dulcet tones and surprisingly palatable sounds of Porkchop Express.
Discography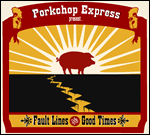 Download for $3.99
Fault Lines and Good Times
Release date: August, 2009. Our brand new album! Read the Write Up
Banjolero
Not That Type of Girl
Christicles
Bourbon and Bile
Fault Lines and Good Times
Crop Circle Waltz
Bones of Glory
Vacation
I Shot my Wife (Again)
War Woot
"It's these original twists on familiar themes that bring the listener back to the CD for repeated plays. Many of the songs do not click on first listen but as we decipher them song by song, the porkchopian gestalt begins to permeate our consciousness like the afterglow of a hayloft tryst."
--Hicks With Sticks
"Solid new album from local alt-country veterans. A common thread of ironic reflection on the peril of adult life runs through songs like Bourbon and Bile and I Shot My Wife (Again). With a sound that's a little bluesy, a lot twangy, and a whole ton of country and some damn funny lyrics, it's a witty little slice of Americana."
--East Bay Express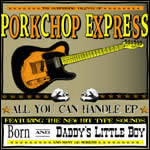 All You Can Handle EP
Released 2006. Six original songs recorded with Giovanni Moro in his basement studio of DOOM. Put it in the stereo, turn off the lights and close the blinds. Wait! What's that hand touching you? It's us.
Cougar
Born
Hombre
Ballad of Kelly Smalls
Daddy's Little Boy
Virtue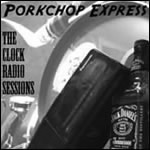 Download for $2.99
The Clock Radio Sessions
Released 2004. Our glorious first album. 13 songs recorded in two and half days in a cozy Potrero Hill warehouse. The great Slingshot o'Fame is now pulled taut, holding us firmly in its cusp and ready to shoot us into the stars.
She Gave me the Finger (But I got the upper hand)
Mama Taught me to Drink
Birthday Song
Charlie Bravo
Hard to Fight off Heartache (When all your friends are in AA)
California Love
It Ain't Fair
Hippy Girlfriend
Call Me John
Better Than Being Alone
Breaking Up is Hard in this Competitive Housing Market
Reno
Jessica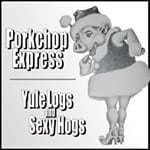 Download for $0.99
Yule Logs and Sexy Hogs
Released 2005. A little bit of Holiday goodness we threw together and gave as a gift to our fans at one of our Christmas shows.
The Bar is Closed on Christmas
Holiday Song